Dry Ice Blasting
05/10/2011
Finishing Technology has a state-of-the-art, dedicated station for Dry Ice Blasting projects which enables the cleaning of a wide variety of items up to 10,000 pounds and dimensions of 10' high, 16' wide and 6' deep.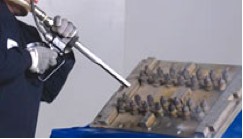 Dry Ice Blasting is similar to sand blasting, plastic bead blasting, or soda blasting where a medium is accelerated in a pressurized air stream to impact a surface to be cleaned or prepared. However, instead of using a hard abrasive media to grind on a surface, dry ice blasting uses soft dry ice, accelerated at supersonic speeds, and creates mini-explosions on the surface to lift the undesirable item off the underlying substrate.
Dry ice is an important part of the process because not only does it remove dirt and deposits, but it also cools the surface to be cleaned and prevents any warping of the surface by over-heating during the cleaning process. In addition to being clean and safe, dry ice is made of reclaimed CO2, so it doesn't produce or add CO2 to the atmosphere or contribute to the "Greenhouse Effect."
Dry Ice Blasting has been used in EPA, USDA, FDA, AIB and GFSI inspected/certified buildings and is approved for use in the food industry and other general cleaning applications to remove product residues, release agents, contaminants, paints, oils and bio films.