Service Division of Finishing Technology
Finishing Technology offers a variety of anodizing capabilities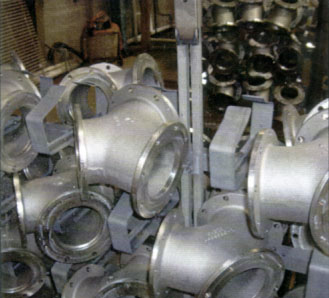 Since our beginning in 1976, we've continually added new metal finishing services to meet the challenging needs of our customers. Overtime, Finishing Technology has grown to become recognized as having the broadest array of high quality metal finishing services in the region. So whatever your metal finishing needs may be, Finishing Technology can probably help.

In this section, you can see firsthand all the diverse service offerings we can provide. Whether you have specialty cleaning needs or require more sophisticated anodizing or stainless passivation challenges, Finishing Technology can help. Not surprisingly, many metal finishing projects come to us because no one else could deliver our level of problem-solving diagnostics and previous hands-on experience to meet their needs.

By integrating continuous process improvements in material handling, upgrading equipment, adding new technologies and employing rigorous training programs; we bring superior quality outcomes to every metal finishing project.
Precision Hard Coat
16 stage system
Type 2 Anodize
Available in black, tan, gold, blue and clear with custom colors by request
Tank dimensions: 96"L – 36"W – 36"D
Certifications on request (Military & AMS)
Remove surface iron
Cleaning cycle that removes oils, greases
and other residues
Includes multiple rinse stages, passivation, rinse and dry
Capable of processing parts up to 8 feet
long and up to 1,000 pounds
Cincinnati Black Oxide a division of Finishing Technology
Black Oxide Stainless Steel
Quality finish guaranteed
Rack, barrel, single piece or truckload capability
Maximum part weight of 10,000 pounds
Certifications on request (Military & AMS)
3 stage and 5 stage spray washers for degreasing and parts cleaning
3 stage immersion system for injection molds
Ultrasonic cleaning tanks for jewelry and small, fragile items
Single stage belt washer for electrical components
Steam Jenny for floor grates and pretreatment assemblies for pain
Mechanical cleaning and polishing – vibratory deburring, descaling and burnishing
On-site foam cleaning of industrial applications like equipment, floors and walls
Dry Ice Blasting has been used in EPA, USDA, FDA, AIB and GFSI inspected/certified buildings and is approved for use in the food industry and other general cleaning applications to remove product residues, release agents, contaminants, paints, oils and bio films.
This method of cleaning has earned many benefits:
Non-abrasive
Nonflammable
Nonconductive
Clean and environmentally-friendly (contains no secondary waste
contaminants nor releases any harmful gases into the atmosphere)
Safe and non-toxic, reducing worker exposure
Blasting
Utilize a wide variety of particles from glass beads to steel grit
Specialize in small and large projects requiring precision and accuracy
Private Label Chemical Blending
Custom blending and labeling capabilities
Packaging includes drums, tote bins or tankwagons
We listen to your needs and survey your pretreatment system.
In our process lab, we prepare parts from your plant for painting or powder coating. We can simulate up to 8 stage systems: spray or immersion.
Painted parts are tested in our analytical lab for impact resistance, salt spray, paint thickness, paint adhesion, creepage, etc.
Based on trial results and your feedback, we propose our chemical and mechanical solutions.
5 stage heated spray wash – expandable to 8 stages
5 stage heated immersion system
Vibratory bowl, barrel, or disc machines
Analytical services:
Coating Thickness
Coating Weight
Taber Abrasion Testing
Humidity cabinet
Custom Packaging to its Service Capabilities
Known for its ability to continually evolve services to better meet the needs of its customers, Finishing Technology is now offering a broader variety of custom packaging and blending services.
Finishing Technology's expanded custom packaging and blending services include:
Trans-loading tank trucks into 55 gallon drums and totes
Blending
Labeling
Warehousing
Shipping